An automatic setback or programmable thermostat can save you around 10% on your heating and cooling bills.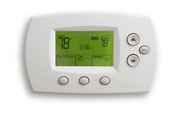 A programmable thermostat is ideal for people who are away from home during set periods of time throughout the week. To decide which thermostat is best for you, think about your schedule and how often you are away from home for regular periods of time.
Then decide which of the three models best fits your needs:
7-day models are best if your daily schedule tends to change; for example, if children are at home earlier on some days. These models give you the most flexibility and let you set different programs for different days — usually with four possible temperature periods per day.
5+2-day models use the same schedule every weekday and another for weekends.
5-1-1 models are best if you tend to keep one schedule Monday through Friday and another schedule on Saturdays and Sundays.
---
Integrity Air Heating & Cooling is based in Jasper and provides quality residential and light commercial HVAC service & repair, sales and installation in all of North Georgia, including Cherokee, Pickens, and Gilmer Counties. We service heating and cooling systems in the cities of Ball Ground, Canton, Woodstock, Town Lake, Holly Springs, Waleska, Nelson, Tate, Jasper, Big Canoe, and Ellijay.