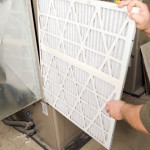 • Replace Your Filters on Schedule — Generally speaking, it's best to change your filters every 3 to 9 months. Consult your owner's manual for specific recommendations for your system. By doing this simple task, you will add years of life to your system, keep utility bills down and have peace of mind that you are breathing clean air in your home.
• Program Your Thermostat for Savings — Installing a programmable thermostat allows you to set the temperature to match your schedule when you are away from home, resulting in substantial annual energy cost savings for both your heating and cooling systems. Additionally, be sure to replace the batteries in your thermostat at least once per year. This will ensure that your thermostat is accurately reading the temperature in your home.
• Regularly Clean Your Condenser/Heat Pump — Keeping your outside system free of dirt, grass and other debris is essential in order for your system to work efficiently. If you have dirty coils on your condenser or heat pump, this will cause your system to overwork and can possibly result in non-repairable damage to your compressor.
• Recommended Maintenance — In order to ensure that your HVAC system is working properly, routine scheduled maintenance should be performed on your system. This maintenance includes cleaning, tune-ups, inspections and adjustments. Contact the pros at Integrity Air for air conditioning maintenance and service in Canton, Woodstock, Holly Springs, Ball Ground, Waleska, Jasper, Big Canoe, Nelson, Tate, Ellijay and surrounding areas — before the heating or cooling season begins. To ensure optimal indoor comfort, it's best to find out if there are problems with your system before the onset of extreme hot or cold weather conditions.
---
Integrity Air Heating & Cooling is based in Jasper and provides quality residential and light commercial HVAC service & repair, sales and installation in all of North Georgia, including Cherokee, Pickens, and Gilmer Counties. We service heating and cooling systems in the cities of Ball Ground, Canton, Woodstock, Town Lake, Holly Springs, Waleska, Nelson, Tate, Jasper, Big Canoe, and Ellijay.